Every once in a while you discover a true hidden treasure, an oasis of calm and beauty in the midst of a busy city. It's getting harder to find them, but they do exist.
We were lucky to visit just such a place: Dunn Gardens. Tucked away in the Broadview neighborhood of North Seattle, Dunn Gardens calls itself "a historic treasure in the city of Seattle" and, at over 100 years old, it really is true. But what is so special about the place is that while the gardens have an essential link to early Seattle history, they are much more than just their history, continually evolving, through the years and also with each season. Gardens are, after all, living spaces in a constant natural flux.
Let's start with a little history. In 1914, Arthur and Jeannette Dunn, having built a successful salmon canning business called Ainsworth & Dunn, decided to purchase land for a summer home. They first thought of the Highlands, but they wanted to keep a cow, which was not permitted in the Highlands. So, they decided on 10 acres of undeveloped land in what would later become the Broadview neighborhood of Seattle.
The Dunns asked the Olmsted Brothers, whose landscape architecture firm had developed a comprehensive plan for Seattle parks in 1903, to design an estate garden on the property. Staying true to their design philosophy (inherited from Frederick Law Olmsted, designer of New York City's Central Park), they designed in a naturalistic tradition, highlighting the views and trees (Arthur, who missed the fall colors of his youth on the East Coast, asked for a variety of deciduous trees). Importantly, the brothers thought gardens should be a place of repose and they designed accordingly.
The family regularly stayed at the estate and often held parties there. Both Arthur and, later, his son Edward, were passionate gardeners. Arthur was a patron of the Seattle Garden Club and often hosted club functions in the gardens. Edward was an expert on Northwest native plants and served as President of the Seattle Arboretum Foundation and the American Rhododendron Society.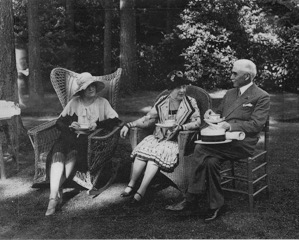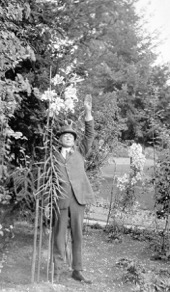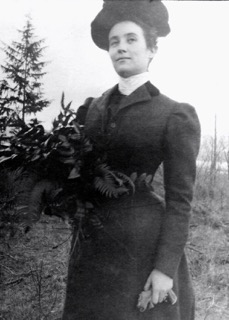 The estate remained in the family until 1991, with several family members living in different residences on the property. Edward converted the original garage into his residence in 1947 and lived there until his death. When his sister Dorothy married, their father gave her a piece of the property and she built a house where she lived the rest of her life as well.
It was Edward who created an endowment fund so the gardens would continue to thrive and in 1993, two years after his death, the E.B. Dunn Historic Trust was established. In 1994 Dunn Gardens was listed on the National Register of Historic Places and opened to the public for tours and educational purposes.
Dorothy and Edward added their own personal touches to the property. With his interest in Northwest natives, Edward decided to create a woodland garden area in 1947. There, you can find various rhododendrons that he hybridized and a collection of trillium and erythronium, plants that were among his favorites. One story tells of the time several aunts visited the family from New York. Edward, then 23, took the group on a tour of the region. While staying at a hotel in Grant's Pass he noticed a huge bouquet of erythronium on the breakfast table and he fell in love with them then and there. Since they are spring bloomers, we definitely want to return to the gardens to see them in bloom next year.
Dorothy also made changes and additions to the gardens. As a child, she was tasked with deadheading a broad bank of roses bordering the croquet lawn, a task she apparently wasn't thrilled with; when, as an adult, she built her house near the bank, she removed all the roses and replaced them with a swath of heather - much easier to maintain! Dorothy also commissioned a Japanese garden, which was designed by Fujitaro Kubota of Kubota Gardens. Kubota didn't sketch out any plans. Instead, he watched as his workers placed plants according to his instructions, moving things around until he was satisfied with the design. Only then were they allowed to permanently plant the garden.
Despite some alterations over the years, the gardens today retain the Olmsted design, with curving driveways, expansive views, and a series of garden "rooms" to discover, as Beth Weir, the Executive Director of the gardens, explained to us during our visit: "In an Olmsted garden there are always big 'rooms' and small 'rooms,' so you get the feeling of immensity even if the garden itself is not big and intimacy even if it is."
The gardens have many trees (of course) such as Sugar Maple, Beech, Hawthorn, Magnolia, and the Dove Tree. The Dove Tree is also called the Handkerchief Tree and is named for its long, white, dangling flowers in the spring. Beth likes to talk to visitors about the Hawthorn as well. She calls it a mystical tree and tells people not to sit on it because if you do you will disappear into fairyland. Another reason to stay away? The incredibly sharp, protruding thorns (hence its name). There are also several lawns, including the Great Lawn and the Croquet Lawn.
We learned that one of the hallmarks of an Olmsted design is the absence of showy colors and garden ornamentation (although a few naturalistic ornaments have slipped in throughout the years). Instead, the focus is on the trees, curving paths, expanses of lawn, and plays of light and shadow. Because of this, you focus on the details: an autumn leaf suspended amongst the fuchsia blossoms, dappled sunlight on a thick cover of cyclamen, the fading blossoms of a hydrangea, stone steps leading to another garden room, the pattern of leaves.
One exception to the Olmsted's reserved, naturalistic approach is the Curator's Garden, located beside the trust cottage (where the original house once stood). This garden has seen the influence of past curators, including the garden designers Glenn Withey and Charles Price, who were at the gardens for 20 years. It is a riot of colors and shapes even in October, with wonderfully unique begonias, dahlias, and other wildflowers still going strong. The new Director of Historic Preservation, Quill Teal-Sullivan, will also add her touch to this space. In fact, she was recently seen unpacking foxglove seeds in her office. A hint of what's to come, perhaps?
Beth showed us one of her favorite plants, native to her home country of New Zealand: the Pseudopanax ferox, or fierce lancewood. It was a young specimen, protecting itself with a large quantity of spiky thorns (photo in slideshow).
The gardens are a place of quiet beauty that seems completely removed from the city. Birds and squirrels accompanied us on our visit and we learned that over 25 species of birds have been seen on the property! There are also bunnies living in the gardens and even a coyote that has been heard but has yet to be seen.
We felt as if we could have wandered exploring for hours, but reluctantly, we left to return to work. Luckily, we work at another beautiful place filled with plants: Swansons! And we know that we will be back to visit again because we really want to see the gardens in each season.
Dunn Gardens recently instituted 'Tuesday Wanders' where members can stroll the grounds, photograph the gardens, paint, read a book, or event just nap in the beautiful surroundings. They also offer one open day per month, when non-members can check out the gardens and learn more. If you are interested in finding out more about Dunn Gardens membership, tours, volunteer opportunities, and events, please visit their website.
A huge thank you to Beth Weir, Executive Director of Dunn Gardens, for her informative tour!